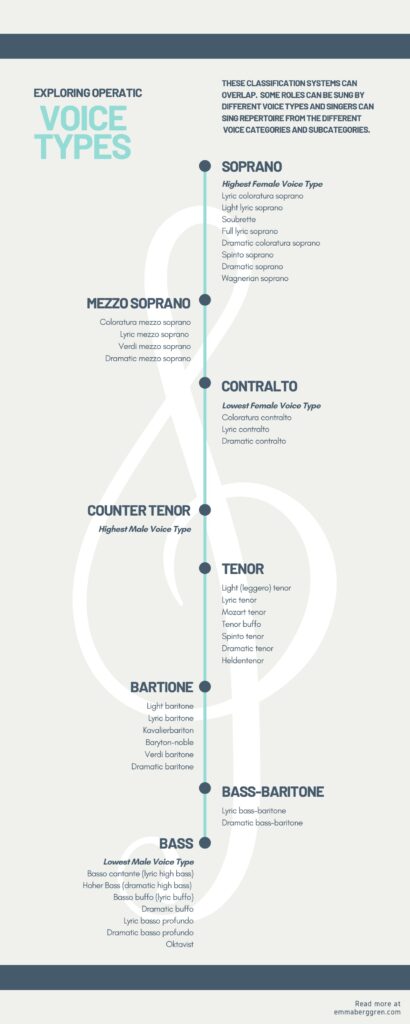 Have you ever met a mezzo who is able to sing a high C amazingly and assumed that she must be a soprano, or have heard a soprano who have strong and colorful low notes and therefore thought that she must be a mezzo?
A lot of the times when people determine what voice fach they belong to they think about the range of their voice. If high notes don't come easily you usually think of yourself as a mezzo/alto or bass/baritone. However if you on the other hand have easy high notes or maybe don't have too great low tones – you might think that you are a tenor or soprano. Although this can be true – your vocal range is not the only determining factor as to what voice fach you may belong to.
Although the range of a voice does determine a person's voice type, the qualities or what we call resonances (colors) in the voice as well as how that voice responds to the repertoire are just as important deciding factors.
The tricky part is that if your voice is not fully developed or free. Your true vocal range and all the resonances in your voice might not yet be accessible to you.
Many famous singers started in one voice fach and later had a great career in another. Marilyn Horne started her training as a soprano and later had an amazing career as a mezzo soprano, Sondra Radvanovsky started as a mezzo soprano and is now one of the greatest spinto sopranos. Birgit Nilsson, who is famous for her steal voice and high notes, wrote in her book La Nilsson about how she struggled with her high notes in her early twenties.
It seems to be that as the voice develops and opens up the true colors and range of the voice gets revealed. This process seems to come about with good guidance (teacher or intuition), patience, time, and body/vocal maturity.
One of the best way to start determining your voice fach is to try out different repertoire.
A mezzo soprano with an expansive range and great high notes might try to sing certain soprano songs, but usually struggles to sustain singing the soprano repertoire for longer time and their voice is not blossoming. However as they try the mezzo repertoire all of the sudden the voice blossoms and more resonances (colors) comes in and they feel that it overall just feels better singing this repertoire.
A soprano who doesn't have access to her high notes yet might sing mezzo repertoire but is not able to access the same resonances that a mezzo would and might feel that singing in the lower range takes too much energy.
Please note! Voice fachs are just categories but the human voice is more flexible than that! A lot of people are able to sing repertoire from different voice fachs. There are many roles that could be sung by a soprano or a mezzo, or a bass-baritone or baritone dependent on taste of the casting director/conductor and what qualities required in order to be heard over the orchestra.
My best advice about finding out what voice type you are is by finding a good teacher who could guide you through the process. It also helps to be open to the idea that you might not know yet who you are vocally but that you are willing to discover it.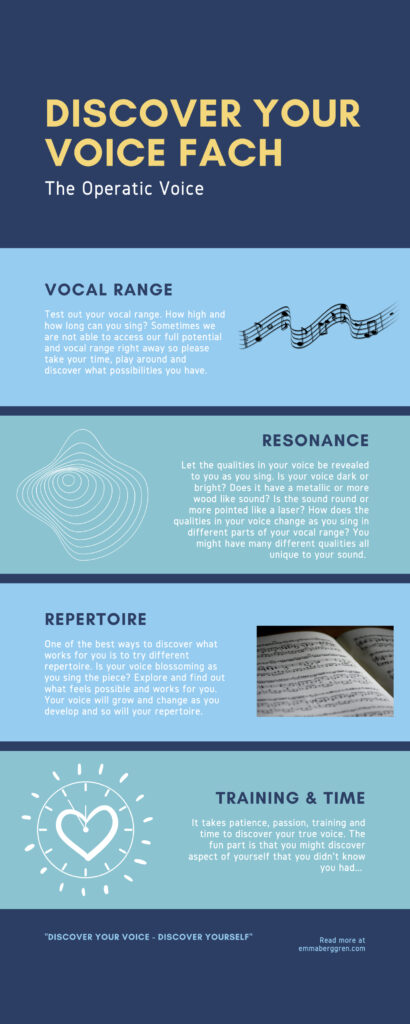 Do you know what your voice type is? How did you discover your voice? Please share in the comments.